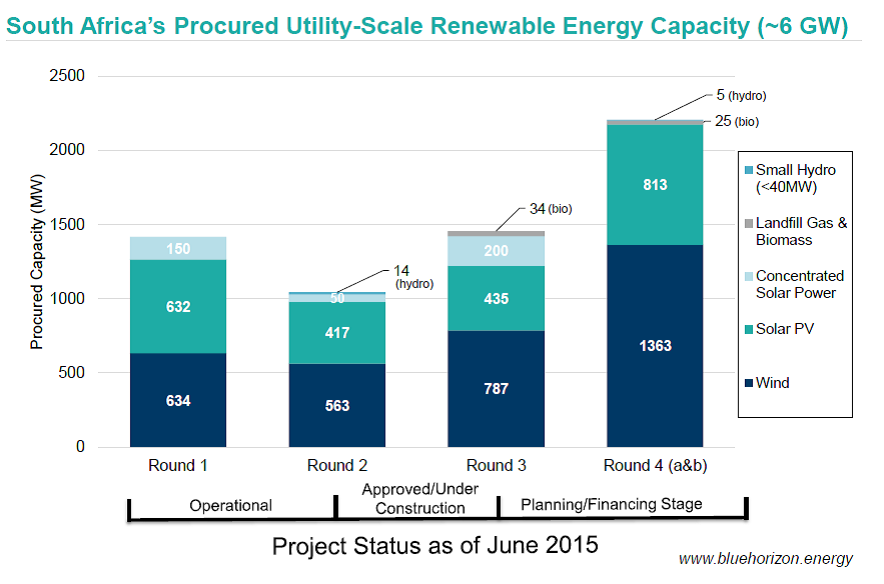 REIPPPP Status Update
In response to competitive prices from renewable energy and the popularity of its Renewable Energy Independent Power Procurement Program (REIPPPP), the South African Department of Energy (DoE) announced earlier this month 13 new utility-scale renewable energy projects totaling 1,085MW to be built by independent power producers (IPPs) in the country. This is in addition to the previous Round 4a announcement of 1,121MW made in April 2015.
To date, South Africa has procured ~6 GW of renewable energy since it began the REIPPPP in 2011. Most of the capacity will come from wind (55%) and solar PV (38%). More projects are expected in the near future, with an expedited next round to procure 1.8GW of renewables this year. DoE has stated that proposal documents for this expedited round will be available on 25 June 2015 and due the end of September. This is positive news for South Africa's energy sector still struggling with a supply shortage and regular power outages, despite unrealistic commitments by Eskom that no load shedding will take place this winter.
Public-Private Partnerships (PPP) Success Story
The success of a public-private partnership (PPP) is often measured by its ability to meet a few key criteria:
Sound economics
Appropriately allocated risk
Reliable political support
Effective execution
Thus far, the economic benefit of the program has outweighed the costs with competitively priced and clean electricity generated for the country. Prices for new solar PV and wind are now cheaper than projected costs of new coal power plants in the country (For more info on prices click here). The renewable energy projects selected to date are investing an impressive R193 Billion (~US$16 Billion) in South Africa. In addition, job creation, socio-economic programs, enterprise development funds, local content spending, and partial local community ownership aim to provide added benefits for the public especially for local communities in need. Projects selected to date have already committed to funding R19.1 Billion (~US$1.6 Billion) for socio-economic development programs alone.
Despite some delays and communication challenges, the political support for this PPP has also been a contributing factor to its success to date. The Department of Energy, for example, has remained committed to working with the private sector on the REIPPPP since it began in 2011, and made efforts to conduct the evaluation process in a transparent way using a well-balanced team of internal and external industry capacity.
Risk for this PPP between government and the private sector has been well structured by allocating risk to the party best positioned to manage this risk. For example, IPPs are responsible for building power plants and providing reliable electricity promised to the government, while the government via Eskom is responsible for purchasing this electricity and ensuring customer demand.
The fourth category of execution has yet to be fully tested as many of the projects are still in the early stages of implementation. Most projects in Round 1 are off to a great start reaching commercial operations by last year while keeping capacity, budget and time commitments. The last measure of success for this PPP will be determined by the IPPs performance over their 20 year PPA lifetime in meeting not just energy, but also economic development commitments. Managing socio-economic programs for local communities is new territory for many IPPs and presents unfamiliar challenges. To overcome these, IPPs will need to learn from past experience in other sectors as well as from each other, to ensure measurable and meaningful impact.
The REIPPPP's performance to date highlights the potential for public-private partnerships to deliver much needed infrastructure for Sub-Saharan Africa, when conducted in a transparent, competitive, and fair way. Recent PPP project progress in Ghana, Kenya, and Senegal further support this trend. Whether the South African government can recreate the success of this program in other sectors remains to be seen, but it has plans to use a similar procurement approach for cogeneration, coal, and potentially gas infrastructure.
Note: Article last updated on June 18th, 2015
Key sources: Department of Energy Press Release, 2015. World Bank Article, 2015.