The World Bank Group (WBG) deployed its Scaling Solar program in four African countries to date with 12 new countries in Africa and Asia to be announced soon.
GTM Research and Blue Horizon ECS's new report on the World Bank Group's Scaling Solar Program estimates the program will lead to over 1.2 GW of utility-scale solar PV in Zambia, Senegal, Ethiopia and Madagascar in the coming years. Despite criticism from some, its creating a risk mitigated opportunity for international developers to get a foothold in new markets with high growth potential.
The Scaling Solar Initiative is designed to address utility-scale solar project development challenges in emerging markets through a transparent auction overseen by the IFC with a pre-screened project-site and standardized contracts. The program also leverages risk reduction products from the World Bank Group (WBG) to allow these countries with high perceived risks and limited institutional capacity to benefit from the increasing affordability and competitive financing available for solar PV projects.
The most lauded achievement of the program to date has been Zambia's record low price for Africa of 6.02 USc/kWh in June 2016 (non-indexed), less than one year after signing the initial memorandum of understanding (MOU) with the Zambian government. The figure below compares the prices bid for two solar PV project sites in Zambia highlighting the winning bids.
Figure 1: Zambia's Solar PV Bid Prices for 25-year PPA in June 2016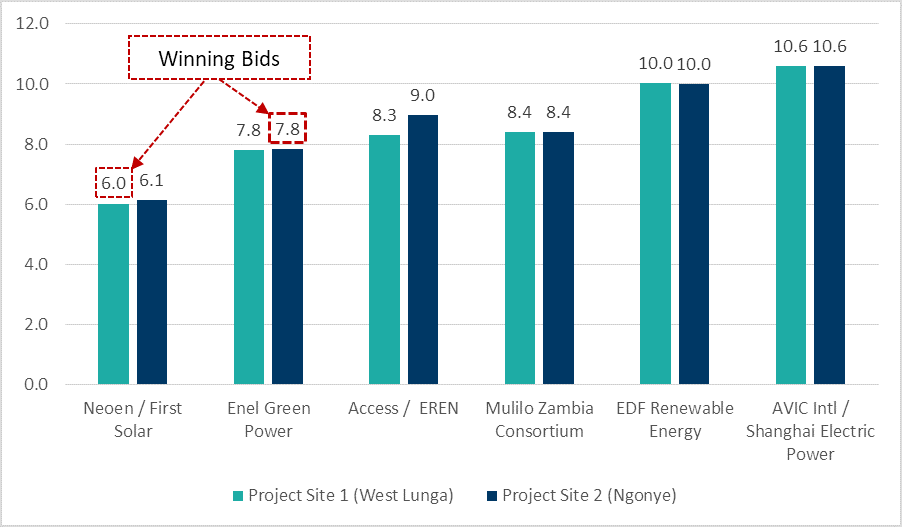 Addressing barriers to utility-scale solar in these markets
Development of new utility-scale projects in these markets face a number of challenges, which have made it difficult to execute bankable and competitively priced projects in the past. These challenges include non-transparent procurement, questionable off-taker credibility, non-cost reflective tariffs, exchange rate volatility, and overall lack of a stable institutional framework with strong regulatory support.
Organizations within WBG offer several support products to address some of these challenges and de-risk projects for developers, investors and governments in these markets. Off-taker payment risk, for example, is a common challenge in markets where the state-owned utility sells electricity below the cost of supply and may have a conflict of interest to give preference to its generators rather than independent power producers if surplus supply exists. Similarly, the WBG insures against political risks such as government seizure of the project site or other contract breach.
Figure 2: Overview of Pre-Packaged Scaling Solar Support Products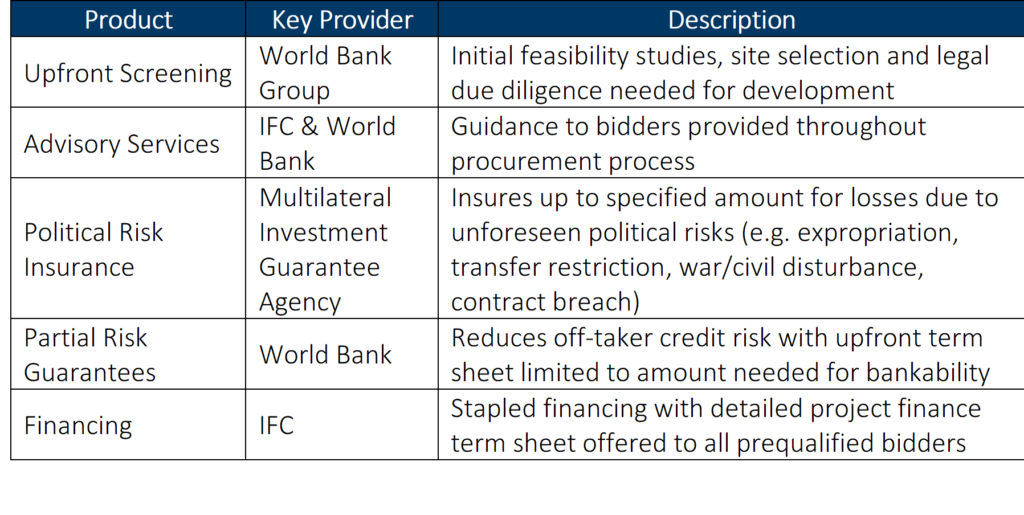 Criticisms of the Scaling Solar Program
The program has come under criticism from some for hindering local developers in the short-term in favor of global players that can offer more competitive pricing. For example, the Zambia bid sets a price benchmark expectation elsewhere in Africa that may limit developers in other markets, who have cited difficulties with regulators expecting similar prices or holding out on approving project licenses because of an expectation that there may be an MOU with Scaling Solar announced soon.
While Scaling Solar may delay procurement for other projects under consideration, the solar industry is not a zero-sum game. If the initial projects backed by the IFC demonstrate solar PV can be procured competitively and built on-time, then this improves perception of the technology in the region as a whole and increases the odds that more solar will be procured in the future. Future refinement of the Scaling Solar program may take some of these considerations into account along with further encouragement of a sustainable local industry in each of these markets.
Future outlook of Scaling Solar in Africa & Asia
The recent state of emergency declared by the government in Zambia, highlights the importance of WBG's political risk insurance and other risk mitigation measures in the these markets to keep projects bankable. However, the jury is still out on its long-term success and replicability, as well as intended and unintended market impacts on the local industry. While the first two projects in Zambia are expected to reach financial close within a few months, most others are still in earlier stages of procurement.
The program's transparent and standardized auction approach has proven it can attract global industry players to unlock benefits from low-cost and quick-to-build solar. As the program progresses and expands to 12 new countries in Africa and Asia, GTM Research and Blue Horizon ECS expect it to be a major market driver for unlocking gigawatts' worth of capacity in new markets for years to come.
Note: A variation of this article was also published by Greentech Media and can be found on GTM's Website. A link to the full report coauthored by Benjamin Attia from GTM Research and Chris Ahlfeldt from Blue Horizon ECS can be purchased from GTM Research.