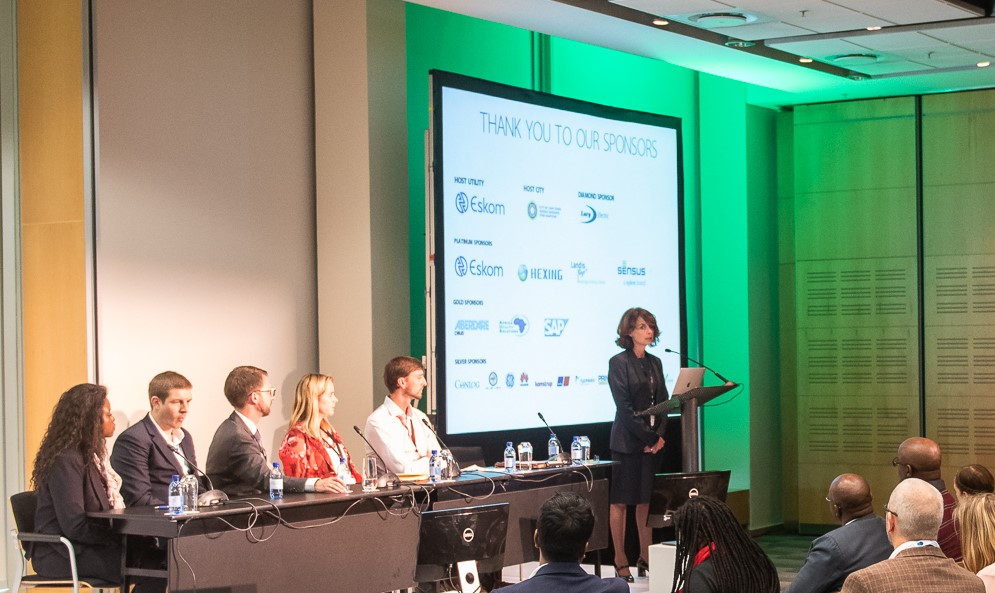 The discussions at the Africa Utility Week and POWERGEN Africa (AUW) conference in Cape Town last month highlighted the need for the local energy industry to step-up its rhetoric on the economic and job creation opportunity that comes with addressing climate change. It was inspiring to hear some speakers highlight the success they've experienced with meeting decarbonisation goals while maintaining strong economic growth, like Sweden's State Secretary, who spoke about Sweden's net-zero emissions goal by 2040 and other lessons that can be learned from Nordic countries. Likewise, a recent study found that adopting a 100% renewable energy goal in Africa by 2050 is not only feasible, but also cheaper and would create more jobs than a conventional fossil fuel approach. The benefits of a clean energy transition are clear, but translating that into action across the continent is the next challenge.
I've spoken at the AUW conference in Cape Town for the past few years, and enjoy attending as I can connect with a wide variety of people and green businesses working across the energy industry, while keeping my carbon footprint low by avoiding air travel. Here are some of my observations and thoughts from the recent AUW conference.
ESG & responsible investing still have a big role to play
In addition to the higher costs of coal and associated pollution, the difficulty in financing new coal projects with international investment was cited as a major reason to stop building new coal plants in some of the discussions. This highlights the positive influence development finance institutions (DFIs) and responsible investors that want to minimize climate change risks, are having on influencing change in the energy industry. Investors still have more work to do, as shown by Standard Bank's shareholders who recently voted against a requirement that the South African bank begin reporting on the emissions and climate risk associated with its financial portfolio. This was the first vote of its kind in the country so hopefully the momentum will continue to build for responsible investing.
Policy & regulations are changing
There was also an announcement at the AUW made by South African government that the Integrated Resource Plan would be released "very soon" and that it would give NERSA direction to approve pending licenses for hundreds of renewable energy projects totaling ~500MW. The bigger unknown now is how quickly the new Minister of Mineral Resources and Energy can get up to speed on South Africa's energy crisis and how he manages priorities between the mining and energy sectors.
Phase 1 of South Africa's carbon tax went into effect as of the beginning of June at a price of R120/ton CO2 equivalent for big polluters in energy, mining, transport, manufacturing, construction, oil/gas, waste, and other industry. Tax breaks will limit the initial impact of the law and Green Building Design Group estimates it will directly impact motorists at R9 cents/litre on petrol and R10 cents/litre on diesel. While the Carbon Tax will help reduce greenhouse gas emissions, it needs to be implemented in a way that helps resolve inequality in South Africa rather than make it worse with a regressive tax on low income communities. Some have suggested to use the tax to help the poor through direct subsidies and other countries have tried a similar approach. Canada, for example, redistributes its carbon tax revenue back to households in need.
Other countries are also adapting regulations to enable more renewable energy projects, including Namibia which recently changed its energy market structure to remove the conflict of interest with IPPs and the national utility.
New green businesses & models needed
The Energy Revolution discussions highlighted the larger role mini-grid and solar home systems are playing across the continent. However, challenges including a mismatch of investor incentives who often prefer to optimize revenue with existing off-grid customers then spend more money to acquire new customers in rural areas has slowed progress for companies and countries to meet energy access goals. Opportunity exists here for impact investors willing to take on more risk with last-mile customers.
Many understand the need for utilities in Africa to move past the vertically integrated model to allow for more private investment. Power for All unveiled their Utility 2.0 concept at the conference which pairs the benefits of established utilities in energy-poor countries with decentralized and data-driven technologies and partners to accelerate universal electricity access. This design thinking approach aims to overcome the development-as-usual mindset of utilities to achieve common goals among local stakeholders in energy access. They used their experience with Umeme Ltd. in Uganda as a successful case study in how to apply the learning from this approach in other countries.
The AUW last month showed there is a lot opportunity and work to be done in clean energy transition here. The benefits of a cleaner, cheaper, and more job intensive renewable energy based industry will make it worth the effort, so hopefully we can build on this momentum for next year's conference.
Photo source: African Utility Week conference photo gallery