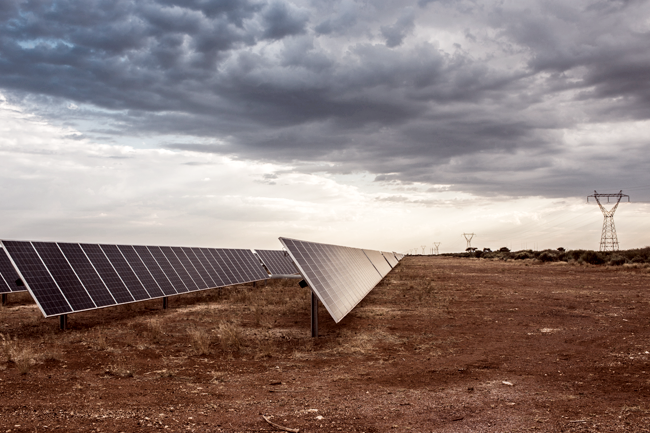 Written by Tracey Melass from African Decisions; Image Source: Gallo/GettyImages
From cellphone-charging booths to irrigation systems and shopping-centre rooftops, Africa's solar revolution is gathering pace.
Five-year-old orphan Naisanga Esther is the first member of her family to learn to read, and she practises in bed every night. She dreams of becoming a community-health worker in her Ugandan village. Esther went to live in the Kaliro School and Orphanage when her mother died of Aids. It was established as a home and school for orphans but, being so far from the electricity grid, its services ended at sunset.
This all changed, however, when Israel-based NGO Innovation: Africa provided the orphanage with solar technology. Teachers began additional educational programmes and homework help in the evenings.
Since its founding in 2008, Innovation: Africa has completed 90 solar and agricultural projects like this around Africa. Using Israeli solar technology, it has provided schools, orphanages and medical clinics with power to offer evening study, adult education, well-lit night-time medical care and refrigeration for lifesaving medicines and vaccines.
And although it's only a drop in the ocean of potential, its work shows how small-scale solar energy can bring about fundamental, if not epic, change in everyday lives.
It's an issue that's also getting attention at the highest levels. In June, an international body, headed by the former UN secretary general Kofi Annan, urged the west to help Africa finance a new US$20-billion fund to provide low-cost solar panels for Africans without access to energy.
In spite of efforts to get people onto the grid, population growth in Africa has meant that the majority of people still use costly and unhealthy forms of energy for cooking and lighting. No reliable statistics exist on the rise of off-grid renewable energy on a small scale – mostly because projects are often installed by individuals or small NGOs – but the trend is accelerating.
Africa's huge solar resource, growing energy demands and high unemployment make it an ideal market for solar energy
Energy consultant Chris Ahlfeldt agrees. He's recently been involved in a number of electricity-sector studies across sub-Saharan Africa, including tariff studies, cost of supply, energy-market restructuring and policy/regulatory reviews for countries such as Namibia, Mozambique, Botswana, Swaziland and South Africa.
Ahlfeldt believes that Africa's huge solar resource, growing energy demands and high unemployment make it an ideal market for solar energy. He also points to the new levels of affordability of the solar-energy alternative. 'In sub-Saharan Africa, solar energy is now cheaper than many conventional alternatives such as diesel generators and, sometimes, electricity supplied by the local utility.'
Africa's limited grid infrastructure also creates more opportunity for distributed and small-scale energy solutions such as solar photovoltaics (PV), which can be built at or near the customer's site.
The experts are clear on the benefits of choosing solar energy. It is deemed to be cost-competitive, has a quick installation time, has no emissions or noise, and has the ability to scale to meet customers' demand. Small-scale solar installations and services sector can also boost job creation, which the continent needs.
Then there is the issue of decentralised power generation, which allows end users no choice in how they receive their energy.
With small-scale solar solutions, power generation falls under the control of the end user. Energy is not wasted by transporting it vast distances from generation source to load centre (about 20% to 30% is lost), and the end user has some control over the sustainability aspect of their energy.
But there are downsides too. The intermittent nature of solar is a drawback, but solutions exist, such as micro-grids that use multiple generation sources (for example, wind and solar energy with back-up generators) and/or batteries to store the electricity.
In Africa, one needs only to look around to see solar's burgeoning presence in thousands of smaller projects. While South Africa, Kenya, Tanzania and Ghana are leading the way, there are examples of best practice dotted all over the continent.
On a larger scale, Africa's largest microgrid showcases the huge potential for solar in distributed applications. The installation on Annobón Island off Equatorial Guinea uses 5 MW of solar power, with battery storage to provide constant 24-hour electricity for the entire island of 5 000 residents…
For full article go to: http://www.africandecisions.com/home/energy-solar-local-companies/